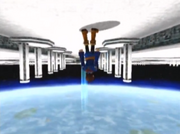 The Great Silver Shrine is one of the last bastions of the ancient Silver Civilization.
Information
[
]
Located beneath the Silver Moon, hovering at the edge of the planet's atmosphere, the Shrine is where both Ramirez and Fina were raised as children. It is also the home of the Silvite Elders, who are encased in crystal. The technology enabled by the power of the Silver Moon is mind-boggling, far surpassing even Valua's techonolgy by centuries, seen as the Shrine can support life in outer space and travel between outer space and Arcadia. However, the shrine is described by Fina as a very lonely place as she expressed reluctance to go home upon obtaining five moon crystals. Few Silvites remain accessible in the Shrine.
The Silvite Elders
[
]
The Silvite Elders are a group of people that live in the Chamber of Elders, the upper part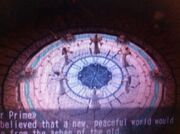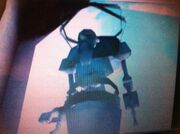 of the Great Silver Shrine. They appear to be enclosed in crystals and are assisted by an android exoskeleton. The name of the Silvite Elders are: Prime (who acts as a sorts of leader of the group), Orbis (who contacts Fina during the story end part), Halos, Cross, Stout and Helos.