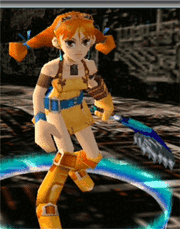 The Moon Wing is one of the many weapons Aika can wield.
Description
Edit
A superb weapon created by master, Ryu-Kan. A perfect balance of design and functionality.
Weapon information
Edit
This weapon is available for purchase from Ryu-Kan after his shop has been upgraded on Crescent Isle. It can be purchased for 10170 gold and has a resale value of 5085.